Punto Magazine
. . . . . . . . . . . . . . . . . . . . . . . . . . . . . . . . . . . . . . . . . . . . . . . . . . . . . . . . . . . . . . . . . . . . . . . . . . . . . . . . . . . . . . . . . . . . . . . . . . . . . . . . . . . . . . . . . . . . . . . . . . . . . .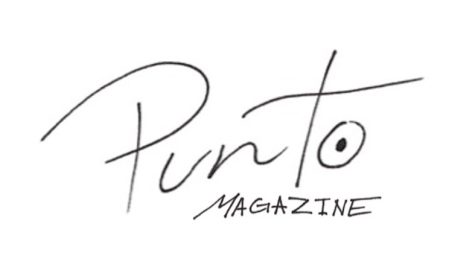 Executive Summary
Introduction
Punto is in Spanish. Its colloquial use is equivalent to how "period" now means "say no more," and in the way, that body language and spoken inflection can change the usage of a word, Punto can also be used to express, "¿Cual es el punto?/What is the point?" The point of Punto Magazine is to present multiple perspectives on public matters in one virtually confined space. Much like how dots come together in pointillism to compose a grand picture, a collection of perspectives completes views on a subject.
The Problem
As time has gone by and technology has matured, the division in society has increased. As Eli Pariser explains in "The Filter Bubble," technological algorithms can limit or expand what users experience online. While filtering can be a form of self-preservation for a platform's own users, such as being able to mute tweets containing specific words and specific accounts, it can also be an act of confinement by keeping people hidden from seeing all the sides of reality on a matter. 
"The algorithm learns how to classify based on the definitions and criteria humans used to produce the training data, potentially introducing human bias into the classifier," Diakopoulus wrote in "Algorithmic Accountability Reporting," where he examines the role algorithms play within journalism and defines it as the implemented sequence that can identify and accomplish a defined outcome, which is done by associating, classification, filtering, and prioritization. Relating back to The Filter Bubble to question that if people are only exposed to information that they agree with, how can it assure the amplification of diverse and healthy perspectives within an online space?
Our Approach
Here at Punto, we value the unique perspective that everyone's intersectionality gives them and since algorithms are a part of everyday life, both within cyberspace and the real world, Punto Magazine's mission is to build a site that shares perspectives and is accessible to everyone. We want to become a reference point where people who are questioning the reality of a topic/conversation/situation can turn to for a broader observation. In turn, we also hope to become a place where writers can respond to one another via articles and present well source articles that instead of a debate – will open up the dialog. 
Mission Statement
Punto is about people saying what they mean. We value intersectionality and know it grants unique perspectives on life. Aunque no quieran, we'll speak about the world and its victories and failures. It's on you if you read.
Our Product
While the website will publish all year long, in accordance with vital journalist pieces, our product will be a poster of 17 inches by 22 inches, which will contain artwork and photographs used to enhance accompanying shorter versions of a selected story. Since the posters will go paired with their respected longer extended works, these posters will be released once the story has been published online. 
Our Publication
Punto Magazine is a website for readers interested in the alternative. While we want to explore the artistic boundaries of journalism, we also believe in being tethered to the real concerns our shared world faces each day.
Readers will be able to read profiles of artists that use their work to examine the modern day, and feature stories that present crucial information about the current political climate. Punto's science portion will be used to document the rise of technology and the environmental changes happening worldwide. We will publish personable and intimate pieces, about the mistakes made while learning to grow into yourself.
Keep the selfies and vacation pics on Instagram. Our publication wants words that capture actual human life because we want our readers to read things that they might have never considered.
One of our goals is in creating a place, not just for the sake of a byline, but because everyone has a confession to make, some explaining to do, a little bit of catching up, but importantly, something to say. We acknowledge that it isn't always easy to articulate, but we believe that everyone deserves the chance.
Multimedia
While words are what we're mostly after, Punto Magazine knows that there certain things that words could never describe. We will publish photo stories that establish their own perspective through the eyes of the photographer, and dedicate our time to present those storing in a compelling manner. We also acknowledge that inflection can change the meaning of words, so we'll also dedicate space for spoken-word projects. With time we hope to establish our own podcast and youtube channel. We value the importance of visual learning and will do our best to use infographics and other interactive components to elevate stories whenever possible. 
Readership
Our published content ranges from written pieces, fiction and poetry, photo stories, and videography. Topics that could be found on Punto range from human interest stories, news value, profiles of individuals and their environment, opinion pieces, in direct relation to the public, and issues faced by specific communities.
Our Readers
For marketing purposes, our primary targeted audience is young adults (18-35 years old) that have an income range of $15,000-$60,000. Could or could not be pursuing a degree in higher education. They value quality stories that embrace emerging cultures. Our target audience has access to the internet and would purchase merchandise. They would be down to pick up posters at local coffee shops.
Although we plan to market to a specific group of people, our mission statement will not be completed if only a selected group of individuals are only given attention.
Punto Magazine welcomes all readers.
Patricia Guzmán Alvarez

 Jade Anderson

Michael T. Nguyen

Demographics: 51 years old, Straight and says loves women, her/she, annual income of $125,000. Has been working in public relations for 15 years. 

Hobbies: Collecting non-fiction books, Hulu with the Showtime add-on, hot coffee, farmer markets, technological advances, and discovering new songs.

Beliefs: Nothing in life comes easy. Hard work pays off. Nothing is ever promised. 

Concerns: The USA's future, social divisions, maintaining her business, and the possibility of a world war.

 Preferred News Sources: The New York Times, The Houston Chronicle, The LA Times, The Paris Review, Rolling Stone Magazine, The San Franciscan Magazine, Alta, and the occasional Apple News suggestion.  

Demographics: 25 years old, sexually identify's as open-minded, them/they, annual income of $29,000.

Hobbies: Reading fiction, painting, Fortnite & HBO Max, thrifting, listening to music, and cooking.

Beliefs: Everything happens for a reason. Love is the answer. 

Concerns: Making ends meet, sitting on a bachelor's degree, not reaching their full potential, people's attitudes toward customer service attendants, and future technological impacts.

Preferred News Sources: Mainly gets directed to articles from Twitter. The San Francisco Chronicle, The New York Times, Dazed Magazine, Garage Magazine, Vice News, Bitch Media, and The New Yorker Magazine. 

Demographics: 33 years old, Queer but comfortable with Gay, he/him, annual income of $63,000. 

Hobbies: Hiking, tennis, Netflix, bars and breweries, TikTok, and Instagram.

Beliefs: It is what it is. Life is meant to be lived and not stressed. 

Concerns: climate change, political division, life expectancy, dying in his apartment alone, and his parent's well-being.

Preferred News Sources: The New York Times and their magazine, The Nation, The New York Magazine, Out! Magazine, The New York Times, Vulture Magazine, It's Freezing in LA!, and Image Magazine. Most news is gathered from Instagram and Twitter. 
Punto's Future
While there are many magazine companies for specific interests, Punto is a cross between an online blog and a news publication. Its presentation uses the approach of a zine. We hope to create a place where writers can share their work with the confidence that the stories they want to tell will be published and where sources can trust that their words will be treated with respect.
Legal Structure
Punto Magazine will file as a public benefit non-profit organization under Internal Revenue Service Section 501 (c)(3). As a magazine that publishes articles on everyday topics from multiple perspectives, the goal is to deepen the understanding of the complexities of the conversations we have every day.
Our goal is to establish an online social welfare project that benefits the public by creating a dialog between different perspectives so that people can find a common ground in the way they each experience the world. As readers begin to consider perspectives that challenge their current beliefs, we hope that with time, online conversations begin to take place in person. This will give people the opportunity to consider looking at life through someone else's eyes.  
Regulations
As a non-profit, we are already prohibited by the IRS from directing our work's net earnings to inure any private benefactor, shareholder, or individual, we'll take that same approach into consideration for the material published on our site. Meaning that no perspective will outweigh another, as we hold value for the research, sources, and thought used to create each article.
Punto Magazine can't promise that every reader will consider or accept each perspective that is presented on our website. However, because of our legal structure as a Social Welfare Non-Profit, Punto Magazine works to benefit social well-being by valuing multiple perspectives. 
Finances
What We'll Sell
One of our main goals for production is a printed poster that will be published 4 times a year, in accordance with the seasons, within a selected quantity amount. The selection of aligning with the seasons is purely for marketing, but we also want to maintain a "simple" and "bedroom-made" presentation.
Punto Magazine's Product Prices
Printed Hoodies 
 $60.00
Printed T-shirts 
 $40.00
Tote bags 
 $30.00
Posters 
 $20.00
A packet of two bookmarks 
 $10.00
A Packet of 10 stickers 

 $10.00
Initiation
Our initial plan is to start off with the basics. Rely on our full-time side jobs that get the bills paid, so we had a safe space to work on Punto Magazine throughout the night. In terms of the financial aspects needed to start, we want to focus more on establishing the website. It's also important to begin working on our shop as it will account for 20% of our revenue later on.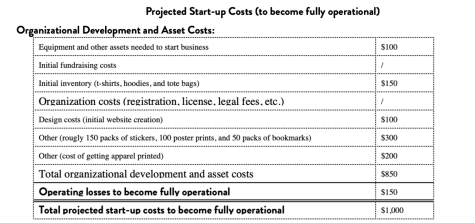 Revenue
Our plan is to follow a traditional funding model where there are multiple streams of income that ultimately contribute to a self-sustaining establishment. The model is structured as the best-case scenario where Pluto Magazine receives donations from individuals and businesses that line with our mission, grants from local Los Angeles County, state grants such as The California Endowment Grant,  and government grants like Chief Executive Office.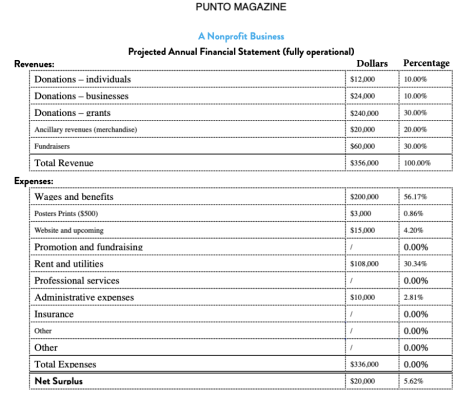 Work & Fundraiser Space
For our office space, we'd plan to rent a warehouse – preferably a single-standing business where we can operate independently, but also use to host Fundraising Events. Punto plans to rent out a warehouse on Washington Blvd. in Los Angeles County. This is a 6,000 sq. ft warehouse that goes for $1.50 sq./ft – totaling $9,000 a month.  This space was chosen for its location, right in the Pico-Union neighborhood that's a couple of blocks away from the Santa Monica Freeway I-10 and the 1-110 Los Angeles Freeway. Downtown Los Angeles is a 10-minute drive east. The warehouse itself has four loading doors, high ceilings, an industrial aesthetic, and its own back-alley entrance with parking (take my money!) Its location makes it accessible for people to drive, uber, or commute from the surrounding neighborhood. Its large open floor plan makes it perfect for an office space that can shift into a dancefloor.
Fundraisers will be planned as parties, with a $10 cover charge and with a lineup of local artists, poets, stand-up comedians, and DJs. Each party will happen in honor of the release of each seasonal release.
Principal Members
According to Payscale, a compensation data analyst company, in Los Angeles, the average Executive Director of a non-profit organization makes $29.41 an hour or $86,095 a year before taxes.
An Executive Director is the equivalent of a CEO for a non-profit. According to Indeed, they are responsible for the successful operation of the organization through avid administration management, strategic planning, hosting fundraising events, and actively working and seeking advice from the Board of Directors to ensure the organization's prospects.
A Board of Directors, according to the National Council of Nonprofits, is meant to stand as a united governing council that understands the values of the nonprofit and operates to enforce that all operations made by the organization, and its staff, are in accordance with the organization's ethics, morals, and legal standing.
Since Punto Magazine is in its beginning stages, I, Fernando Pacheco, will complete the tasks that otherwise an Executive Director would fulfill. As time goes on, a Board of Directors will be appointed – composed of 6 members invested in gender and sexuality studies, psychology, philosophy, biology, technology, and communications. With time, a lawyer and an accountant will also be sought after.
Outreach
Industry
El Punto Magazine will be a part of the magazine industry. The market varies from long-established companies like Conde Nast, which produces New York Magazine, the New Yorker, and Vulture. These publications are largely subscribed to, ordered, and shipped all over the world. Current up-and-coming magazines include Image Magazine and Totem Fashion Magazine. Although these publications can have the reach of a worldwide audience, they are mainly dispersed within Los Angeles County.
Our Advantages
Some of the advantages of El Punto when compared to competitors:
Created by college student/alumni writers for college students/alumni readers.

Mainly online based, accessible from personal or borrowed internet and internet-enabled device.

All work is composed and done locally within California.

Social fundraising gatherings that feature live music from local artists, poetry followed by stand-up comedy, and treats from local bakeries and restaurants. 
Property Rights
All the property rights of written, photographed, and videographer work will go to their respected producers. All work created for the image and brand establishment of "Punto" belongs to the entity itself. Trademarking the name within the State of California is in the works.
Growth Strategy
We hope to grow "Punto" first, by creating a platform that is just as informative as it is interactive. Second, by publishing stories that are in accordance with our mission statement. Then by actively sharing and interacting with our readers. Lastly, by collaborating with other companies and artists that share similar values.
Hit Us Up
Punto will communicate with its readers via a monthly's newsletter that'll detail the stories recently published, a list of other projects going live, and any changes/development within the company.
We also hope to communicate with the public through our stories. We aim to publish stories that not only speak to the public about themselves but also reflect our perspective as an up-and-coming non-profit organization from modern-day California.
As a growing magazine that's eager to find itself, we hope to learn as much as possible from the world. We believe that the only way for us to do that is by talking to as many people as possible. However, we're a bunch of humans, with the same anxieties and worries as everyone else. We hope you enjoyed reading about us trying to shoot for the stars, and if your views aline with ours, feel free to reach out. 
Punto Magazine
(323) 423–5180

. . . . . . . . . . . . . . . . . . . . . . . . . . . . . . . . . . . . . . . . . . . . . . . . . . . . . . . . . . . . . . . . . . . . . . . . . . . . . . . . . . . . . . . . . . . . . . . . . . . . . . . . . . . . . . . . . . . . . . . . . . . . . .