A Pandemic's Impact on Students' Mental Health
Edward Lopez, 21, is working to make up for classes he failed in two full semesters during the earlier part of the COVID-19 pandemic. Lopez, an apparel design major at San Francisco State University, is technically in his third year now, but he feels as if he is in his second year because of the classes he needs to make up.
Originally from Modesto, he is currently living in San Francisco as he studies in-person. Lopez moved to SF in time for the Fall 2019 semester, but eventually moved back home after his studies were transitioned to online instruction. He quickly lost motivation to study and fell out of the loop with class workloads due to a lack of good communication and interaction with instructors and classmates.
Lopez is doing much better now in school since he has been able to return to university classes in-person. He now has better communication with his professors and classmates and even finds that his amount of homework is more manageable, since he is able to get a head start on his assignments during class.
"I'm set back about a year, just because the pandemic classes were basically a waste, but with summer classes, and fall session or winter session, I think I can catch up," Lopez said.
Lopez is one of millions of college students whose education was interrupted and whose life was upended by the pandemic. Decline in mental wellness, lack of motivation/focus studying, family problems while quarantined together, financial problems, issues with studying online: the previous are just some of the issues that students have experienced over the past year and a half.
Pennsylvania State University's Center for Collegiate Mental Health (CCMH) collected data from 43,098 college students seeking services. The data comes from 137 counseling centers across the U.S. and is from the fall 2020 semester.
Of the 43,098 students seeking services who were surveyed by CCMH, 72% reported a negative impact during the pandemic to their mental health , 68% to their motivation or focus, 67% to their feeling of loneliness or isolation, 66% to their academics and 43% to their relationships.
Researchers from the Department of Industrial and Systems Engineering of Texas A&M University and the Center for Outcomes Research, Houston Methodist Hospital in Houston, Texas conducted an interview survey study on the "Effects of COVID-19 on College Students' Mental Health in the United States". They interviewed 195 students at Texas A&M University.
Of those students surveyed, 16% reported having severe concerns on health, 32% reported having difficulty concentrating, 32% reported severe increased social isolation and 19% reported concerns on academic performance.
"None of us have ever gone through anything like this before, so I feel like everybody is in a state of having to cope with something that's a national virus, and then also having to really restructure a lot of the ways that we're living and engaging with people," Laurene Dominguez, clinical counselor faculty at San Francisco State University in the Counseling and Psychological Services (CAPS) department, said.
Early days of the pandemic and transitioning to online school
Kristen Mestre, 19 —originally from Miami, Florida, but studying at Long Island University Post in Long Island, New York— struggled with school when her college was forced to go fully online for a two-week period. Mestre said that New York's then-Governor Andrew Cuomo announced in August 2020 that colleges with more than 100 positive coronavirus cases or an outbreak equal to more than 5% of the population would have to transition to online instruction for at least two weeks. Mestre's college met those criteria to have to go online.
Mestre is a sophomore majoring in musical theater. During her school's two-week shutdown, she found it very difficult to do theater activities and to connect with her peers online. She recalls not having enough space in her dorm room to do things like pirouettes and arabesques while practicing ballet. Even singing for her online classes was tough because she would not know when the audio could cut in and out during her class meetings.
She has had a mostly positive experience while studying during the pandemic, because she has been able to have most of her classes in-person throughout.
"You can't create the intimacy of theater online," Mestre said. "There is just an emotional connection. You just have to connect with people through your breath, through your eyes and through your work together. And to do that online?," she added.
Alyssa Castro, 32, said that the technological aspect of online school was one of her biggest struggles in the first stages of the pandemic. Castro, who has a license to be a vocational nurse but is not using it at the moment, is working toward becoming a registered nurse. During the pandemic, she has completed her prerequisites at Skyline College to be able to apply for the registered nurse program for the Spring 2022 semester at either City College of San Francisco (CCSF) or College of San Mateo (CSM).
Aside from her studies, she has concurrently been working as a lab assistant at University of California San Francisco (UCSF) in the Mission Bay campus. She is also raising two sons, ages seven and two, with her husband in Daly City.
Castro, who does not consider herself tech savvy, had a tough time learning how to use some online platforms that have been used significantly in recent years and especially during online instruction. At Skyline College, students use the platform Canvas to check grades, look at assignments and more. Castro was not used to relying on Canvas to find the important information she needed for her classes, and had trouble finding classes on the platform, sometimes wondering if she was even enrolled in certain classes. She even had some projects she couldn't open because her computer didn't allow it.
Skyline College conducted a survey between March 27 and April 8, 2020. Students' responses described the effect of the transition to online instruction on them. 76% of all respondents (1,217 students) reported having reliable access to internet, 88% reported having reliable access to Canvas and 75% reported having reliable access to Zoom.
Of those who said their recent experience transitioning to online instruction was very challenging, 57% had reliable access to the internet, 70% had reliable access to Canvas and 50% had reliable access to Zoom.
Castro also had to get accustomed to maintaining contact with classmates online. She compared group work in face to face and online formats, saying that groups can easily talk out and plan their work separation in person, but that groups working together during online instruction have to really seek each other out to remain in contact and be clear about their separation of work.
Castro hopes to enroll in an RN program at either CCSF or CSM but prefers to do so when she can take classes in person. "I don't think you're going to be a good nurse if you don't go through face to face because you really have to be hands-on, learning how to put an IV, and dealing with situations even though it's only simulation lab," Castro said, before adding that "you really have to learn how to do the clinicals and be in the hospital."
Dominguez said that studying from home and attending classes online is more exhausting than having classes in-person. She added that in-person classes are structured in a way that allows students to look around the classroom, take breaks and not have to be just looking at one thing or person the whole time. She said students can become fixated on their computer screen during online instruction, because they have no other option but to stare at the screen without breaks and without having anything else to look around at.
"Some students are online constantly. You're online talking to friends and family, your classes are online, every appointment you have is online," Dominguez said. Her advice to students struggling with online education is to take breaks from staring at the screen, turn off one's camera for some time and go outside between classes.
Dominguez also said that there is no physical separation between school and leisure when studying from home. She said one might get the sense that they are constantly in a state of having to do schoolwork.
"I think there's something about going home, after you're done with school, that gives you a little bit of a break, where you're like, 'Okay, school's over, now I can go do something, hang out or study for a couple of hours,'" Dominguez said.
Effects On Mental Health
Reana Sabalones, 20, noticed that her mental health was deteriorating in Fall 2020 in part because her parents would not let her leave the house due to their fear of the global virus.
Sabalones, who is studying at UC Berkeley, is originally from the San Fernando Valley, but is currently living near campus.
"I couldn't see my friends for more than a year," she said. "It felt like prison. I couldn't even go outside to exercise. I felt like a hermit for a long time." Sabalones soon decided to leave her home and seek emergency housing near UC Berkeley.
Once living on her own near campus, she did not have the support of her parents, who had disowned her. She felt like she didn't belong in the university, in part because she wasn't making many friends with whom she could have meaningful relationships.
"There's this culture here [at UC Berkeley] that 'everyone is struggling, and you shouldn't complain. You should just do it, and you should excel. Either that or you're not worthy of being here," Sabalones said. She felt like she couldn't open up to anyone about the things she was going through.
As a counselor to university students, Dominguez has noticed a large increase in anxiety, depression and relationship issues. She hasn't seen too much increase in students seeking counseling, but she has noticed that students who have continued seeking counseling have had increased issues with the three above-mentioned issues.
She described depression and anxiety as being like fraternal twins because of their similar of symptoms. "When you're stuck in anxiety, or you're stuck in depression, that's when it starts affecting your ability to function. That's when it becomes an issue where you may need some other support," Dominguez said.
Mestre was diagnosed during the pandemic with bipolar disorder 2, PTSD, and generalized anxiety disorder.
"I didn't know I had any of that until March of last year. So, I was unmedicated until March, but dealing with seven to eight classes, and having some of those classes be online," Mestre said.
Before being diagnosed and receiving medications, Mestre would often have depressive episodes related to her bipolar disorder, including mania and hypomania. She also often had panic attacks that would last for much of the day.
Mestre's mental health was quickly deteriorating, and even after receiving medication prescriptions, she still struggled for some time because her insurance did not cover her bipolar disorder medications. Before she finally was able to start taking those medications, Mestre almost went into psychosis as a result of hallucinations that she was having that were related to her bipolar disorder.
She started to reach stability gradually once she received her medications. She said that process was very quick because she realized her urgent need for help.
Family Impact
Since Mestre is originally from Miami and just studying in Long Island, her family is back home in Miami. She said that her relationship with her parents has been less toxic while she has been away, because her parents realized they cannot control her while she is so far away from them.
Mestre's parents had never had her tested or treated for anything besides her ADHD, which her brother also has. Her college friends were the ones who ultimately decided she needed to go see a psychiatrist when they saw her not doing well at the early stages of the pandemic. She soon saw a psychiatrist and received her diagnoses, which led to her receiving medication prescriptions that are helping her to this day.
Lopez moved back home with family members, including a sister and brother-in-law, during the early stages of the pandemic. It was one of his sisters who was able to help him begin to get through a period of severe depression that he went through. Between April and May of 2021, she sat him down to speak about changes in him she had noticed. Lopez was not doing his homework as much as before or even opening his textbooks, and he had gained weight; Lopez said he had gained about 60 pounds.
"I felt so hopeless and defeated because a semester had gone by, and I completely failed my classes, no joke. And just seeing how low everything got just brought me down a lot more," Lopez said.
There was a period where he was having very dark thoughts, including suicidal thoughts. He was also thinking of dropping out of school because of how out of the loop he felt in school.
Once he opened up and told her what he was going through, his sister reminded Lopez that everyone is going through tough times during the pandemic. On a night in which there was a lot of crying, Lopez began to take his steps out of his battle with depression.
While he battled with mental health issues and struggles in school, Lopez began working nearly full-time to be able to chip in more for rent and other payments because his sister and brother-in-law had both lost their jobs.
Lopez tried prioritizing his studies as much as he could, but he believes he could not have put more of his time into his schoolwork at that time. He recalled waking up at 9 a.m. to go to work, getting off work at 5 p.m., watching the Zoom class sessions from the day and reading textbooks from 5 p.m. to 10 p.m. and finally, doing homework from 10 p.m. to around 1 a.m.
Lopez said his family was also part of the problem for him during the pandemic. He was not able to see his parents for most of the pandemic, because they were both close to reaching their 60s, and Lopez was not able to get the COVID-19 vaccination for a while because of time complications with work. He did not want to go see them for their health and safety if he was not vaccinated.
Whenever Lopez would think of calling his parents, he would feel a sense of heartbreak knowing that he couldn't go see them in person. "I've gone six months without calling my parents or calling other family because I know if I were to call them, I'm just going to get so much worse," Lopez said.
Before moving back to San Francisco to return to in-person classes, Lopez was able to get the COVID-19 vaccinations and went to go see his parents.
Another reason why Lopez said his family was part of his problem is because he felt pressure from his family to succeed in college. He is regarded as the first college student in his family and felt that his sisters, whom he was living with, did not understand the pressure he was under.
"Just knowing I'm failing, and I have all these people that are rooting for me that have helped me so much along the way, and then suddenly it's like, 'well, you failed an entire semester," Lopez said.
During the early stages of the pandemic, Lopez felt the impact of being isolated and living with people with whom one may have issues with. "I love my sisters, they're great people… I do not consider them my friends; I consider them my sisters. So having to live with your siblings, where you fight and argue a lot, it's definitely not the best environment," Lopez said.
Positive Outcomes
Mauricio Gatgens, 23, from Costa Rica, is in his fourth year of Law School at the University of Costa Rica. He previously studied in Business School for two years before switching his major. Gatgens started having regular therapy sessions, during the pandemic, weekly for some time, but now he goes about once or twice a month. His main reason for attending therapy sessions was his ADHD in general, but he realized along the way that his struggle to do school-related activities was related to his ADHD. He then started seeking therapy specifically for his issue with schoolwork.
He found it very hard to stay engaged and focused in classes held online. In the middle of attending therapy for help with his struggle with doing schoolwork, Gatgens started to wonder if he should drop out or if he wanted to continue studying.
"The more I went to do therapy, the more that devolved, and it wasn't like, 'I can't do work, help me do work.' It became 'I can't do work. But do I [even] want to do that work?,'" Gatgens said.
He realized as he was studying online that he does not desire to work as a lawyer after he completes his studies in Law. He is in his fourth year of law school and will finish out his studies because he is so close to finishing.
"So that aspect of making me realize that I probably didn't like law school as much as I thought I did, at least that part I think is kind of positive. It certainly throws my life into chaos, but I think I prefer that over realizing that I don't like being a lawyer after I graduate," Gatgens said.
After realizing that he was not enjoying what he was studying, Gatgens decided to lower his workload. He would normally take around eight or nine courses per semester, which he said is normal in law school to have to take that many courses per semester in order to have a chance to graduate in the estimated time. Gatgens decided to start taking three classes per semester. He feels that taking three classes per semester is a lot more manageable.
"It's been great. The fact that I just have to focus on school stuff for like, two hours a day, and that's good enough, it's been wonderful for me," Gatgens said.
Gatgens accepts that it will take him longer to complete all his necessary classes with a smaller workload per semester in order to graduate.
For Castro, working in-person throughout most of the pandemic as an essential worker has allowed her to get out of the house, especially during the early days of lockdowns when most people were isolated at home. She said that going out to work constantly has helped her avoid excessive stress or anxiety and maintain a sense of normalcy.
Castro compared her situation to that of younger students who may only have classes to worry about during the pandemic. "It's different because they just have to stay at home and do online classes. They don't have an excuse to go out," Castro said.
She also considers that transitioning to studying online has actually been convenient for her. Her seven year old son also started studying from home at the same time as her, and just as many other parents during this time, Castro had to help him with his school work at home. She was also able to take nursing classes with labs online, something she said was never an option.
She took advantage of the opportunity and took all the classes she could to complete her prerequisites for the RN program. She even took three classes during one summer just because she felt that taking them online was more convenient for her, knowing that she didn't have to go to Skyline College in person.
Moving Forward
With her prerequisites completed during the pandemic to enroll in an RN program at CCSF or CSM, Castro is preparing to take a knowledge exam for both community colleges to have a higher chance of being admitted to either school.Castro wants to go to either community college because the tuition is cheaper than that of private schools. She is also hoping to then transfer to SF State.
Gatgens has been fully online in his classes throughout the pandemic, but he has recently received notice that his university will return to in-person classes next semester. He has conflicting thoughts about returning to classes in-person because he has started working in a full-time work from home job that he can work on while he is taking his classes online. He will not be able to continue working in that job once he returns to in-person classes.
He would like to keep the job, which is in the gaming industry, but he expects to choose university over his current job. Gatgens is currently trying to figure out what career path he will follow, since he has decided not to become a lawyer.
"I kind of see myself in going into some sort of entertainment, like internet shows, podcasting, streaming; I guess you could say content creation. It's something I enjoy or something I've always enjoyed and kind of begun taking it a little more seriously recently," Gatgens said.
Gatgens started a podcast, El Otro Castillo, or The Other Castle in Spanish, as a pandemic project in August 2020, which he is still doing with his friend. In the podcast that can be found on Youtube and Spotify, he and his friend talk about their hobbies and pop culture that they are interested in.
Mestre is doing much better now in terms of her school in relation to her mental health. Most of her classes are in-person this semester.
Since she has a better handle on school and her mental health, Mestre has even started working this semester. I couldn't do it [work] last year; it would have been too much. I was already struggling so much with just school that doing work on top of that would have killed me," Mestre said.
Now she feels a lot more stable and has not had panic attacks in a long time. She also hasn't had suicidal thoughts and is not isolating herself in her room much now. She has also benefited from going to therapy, which helps her talk about her issues. As someone with mental health issues, she said therapy is recommended for her anyway.
Sabalones feels better in school now that she has classes in-person at UC Berkeley. During the earlier period of the pandemic, she struggled in her studies while online because she feels that studying online is not engaging for her.
"I feel like if COVID didn't happen, I feel like I would excel. But I feel like I'm left behind, because I feel like I didn't belong. Now I feel better, and I'm rising again," Sabalones said.
She has been studying Pre-med, but because of the hurdles that Sabalones has faced recently and through reconnecting with friends and meeting other people, she is considering changing her major to bioengineering. She also may take a fifth year because of the academic struggles she had last year during the pandemic.
"I feel like I wasted a bunch of time, but because of the pandemic, I kind of developed this 'I don't give a fuck' attitude," Sabalones said. "I used to care so much about that straight four-year plan. 'After getting my undergrad, I'll go to medical school. And then maybe I'll do graduate [school] beforehand,' I just changed my mind. It gave me time to really think about what I want to use my time for, what I'm willing to accept."
Sabalones is now on better terms with her parents. Although she has never had a close relationship with her parents, she now tells them things that she considers private, academics included. Her relationship with her parents has historically been confrontational, in her own words. Her relationship could be described by the following phrase: "if you do this, you get this," Sabalones said.
Lopez is glad to be back in SF in part because of the better wages in the city as opposed to his hometown, Modesto. When he moved back home after the in-person school shutdown, Lopez was struck by the difference of wages between the two cities. He had become accustomed to his wages in SF. He went from earning $15.90 an hour as a sales associate at Williams Sonoma to earning $11 an hour at JoAnn Fabrics back home, forcing him to take more shifts. Now back home, even getting paid minimum wage, Lopez is earning much better wages.
About the Journalist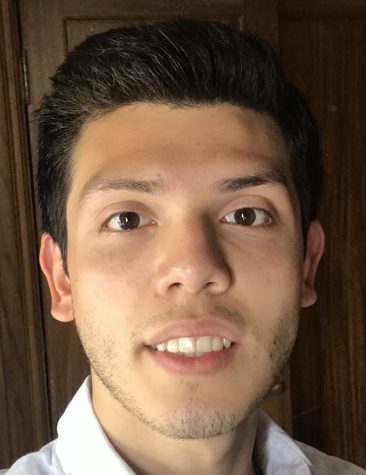 Andres Velasquez
Andres Ovidio Velasquez, born-and-raised in San Francisco, graduated after the Fall 2021 semester at SF State. He majored in Print/Online Journalism and minored in Spanish. He will not pursue journalism as a career path, and is now starting to look for work in other fields. Some of Andres' favorite hobbies are playing football (soccer), playing video games, watching sci-fi movies/series, listening to music, and more. He is also expecting to participate in SF State's commencement ceremony in May 2022.